© Fife Mining Heritage. The site is updated on a regular basis. If you have any items you wish to see on this site or any suggestions please contact web author - (presently dave reid)
FIFE MINING HERITAGE SOCIETY
Preserves mining memories for future generations
---
New page of poems with a mining theme has been added to the Fife Coalfield page.
We are a registered Scottish charity founded in 1995 when the Frances Colliery in Dysart closed down.
We have updated our information on the Valleyfield Colliery disaster. Click on The Fife Coalfield page. Click on disasters, scroll down to the bottom of the page and click on Valleyfield Colliery.
We need the support of many to make a real success of our society so why not join?. If you are interested why not click on the CONTACT or JOIN US link below.
If you have any items that have any connection with Fife Mining Heritage, please contact Dave Reid so they can be preserved before they are lost forever.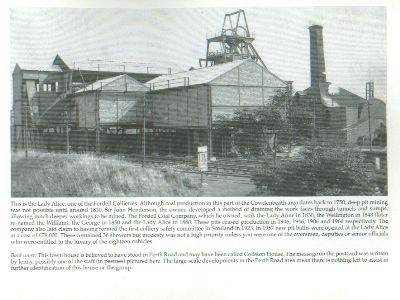 If you have any problems reading this website, click on EASY VIEW on the top right hand corner of this page..
[ contact ]